So I am warning everybody again that I probably won't be doing many Crafty-style Blogs for the next couple weeks cause I'm finally working!!! YEA!! I'm not so excited about actually doing said work, but I will be super excited to get my paychecks! My savings have slowly dwindled down a jingly piggy bank, so a couple weeks of work will do me & my bank account well!
It's nice to be back to work, I feel a bit more motivated & feel good with moving my body & doing manual labor all day. I have today (Sunday) off, so I'm trying to get some stuff done around the house. I also signed up for Weight-Watcher's again. Since I've been off, I been kinda REALLY bad about eating healthy & working-out. I was lucky that a pair of my work pants fit, or I wouldn't have had anything to wear!! So with working 11 hour days, I figured now is a perfect time to get back in it!! I've done it before & I really like it!
So hope everybody had a great weekend. I wanted everybody to send some Good Wishes & Prayers to a friend of mine who had a really bad accident at work yesterday. It was kinda scary, with a nasty fall & I'm not sure of his status, but he's a super guy & really strong so I'm sure he'll be fine.
So here's what movie I'm working on... Don't know anything else about it except what I found on the Sony Picture's website. So when you hear about it coming out, go see it cause I worked on the sets!!!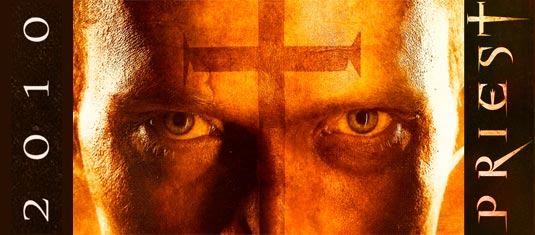 Based on the comic book by Min-Woo Hyung,
Priest
centers on a warrior priest (Bettany) who disobeys church law by teaming with a young sheriff (Gigandet) who is part vampire and a priestess to track down a band of renegade vampires who have kidnapped the priest's niece.